According to tabloid reports, Kendra Wilkinson and Hank Basket have split. Theirmarriage is over.
But who cares about that? This large-breasted blonde has lost 10 pounds! In just two weeks!
Kendra is doing her best impression of Kim Kardashian these days, as OK! marks her third straight week on a magazine cover. This time, she's spewing more nonsense about weight loss.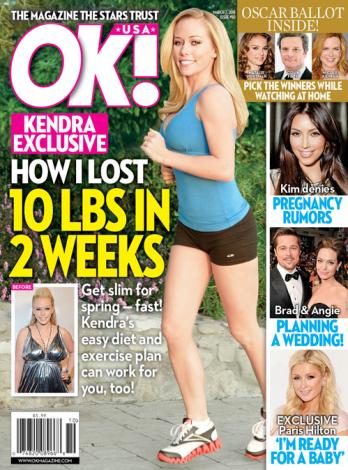 "I always thought I needed to be on some specific diet," says. "But I've noticed that it's all about where you are and what you're doing in life... If I want to eat junk food, I go the gym. If I'm taking a break from working out so hard, I eat more salad."
We've also learned that Kendra will definitely appear on Dancing with the Stars this season. The only question: how will they introduce her?
As the ex-lover of Hugh Hefner? As the wife of a Super Bowl goat? As someone who will do and say anything for fame and fortune? Tune in. Find out!